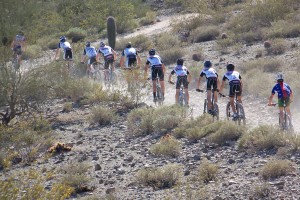 We want to promote positive changes in the lives of young people through mountain bike racing opportunities. We recognize that participation in sport will have a tangible impact in the lives of developing riders that can serve them well off the bike, just as it does on. Our goal is to provide the right resources to Arizona's up and coming racers so that they have the opportunity to fully pursue their goals.  Respect, hard work, and team camaraderie are at the core of what we do at Arizona Devo. We love riding and racing so having fun and "going for it" is what we want to share.
How opportunities are created
With this vision in mind, each year we carefully create a roster comprised of those who not only have promising race results, but also exude enthusiasm and demonstrate a desire to engage with their cycling community.  Arizona Devo supports riders who have demonstrated their commitment at MBAA, Epic Rides and NICA events. Arizona Devo provides a support framework so that these riders can go on to excel at regional and national level events.  We aim to create a supportive team environment in which our riders are empowered to confidently go after their goals.
Arizona Devo provides race support at MBAA state series races, Epic Rides events, and select national level competitions such as the US Cup events and the US MTB National Championships. In keeping with our developmental focus, training camps and team rides are also integral parts of what makes our program work.  Having fun, goal setting, sportsmanship, team unity, honesty, responsibility, environmental awareness, community service, and wellness are among the values we emphasize and teach.  Team members actively give back to the cycling community through volunteer work and trail building in addition to participation at camps and clinics.
Our ability to create these opportunities relies heavily upon those who are willing to support Arizona Devo. The willingness of the MTB community to invest time, equipment, and financial resources allows the Devo program to grow. We are genuinely excited about the future of Arizona Devo and the great people and organizations that we can align with in the years ahead. We are also grateful for the hard work and dedication that has been poured into this program since its inception.